In the competitive and rapidly growing cannabis industry, businesses must find unique ways to stand out and secure the necessary licenses and approvals to operate. This case study explores how Blue Violet Cannabis LLC, an emerging cannabis company, collaborated with Slideckly to create a professional and compelling licensing application that ultimately led to the approval of their Class 5 Cannabis License in New Jersey.
Client Background
Blue Violet Cannabis LLC is a cannabis company seeking to establish a strong presence in the industry by offering high-quality products and services. To operate legally in New Jersey, they needed to obtain a Class 5 Cannabis License, which required them to meet various regulations and submit a detailed application to two separate municipalities.
Challenges
The licensing process presented several challenges for Blue Violet Cannabis:
Adapting the conversion application to the unique requirements of two separate municipalities.
Presenting a large volume of documentation, including legal and sensitive documents, in a clear and professional manner using PowerPoint.
Ensuring that the application would be easily understood by committee members with limited knowledge of the cannabis market and process.
Slideckly's Approach
Slideckly's founder, Mike, began by conducting a thorough analysis of Blue Violet Cannabis's needs, requirements, and desired outcomes. He collaborated closely with the client to gather all the necessary information and documentation to develop a comprehensive understanding of their business and the licensing process.
Solution: Slideckly's Expert PowerPoint Document Design Services
Blue Violet Cannabis engaged Slideckly to help them overcome these challenges and create a professional, visually appealing application that would make a strong case for their business. Slideckly's founder, Mike, worked closely with the Blue Violet Cannabis team to understand their needs and requirements, collaborating seamlessly through email and a few meetings.
Mike's expertise in PowerPoint document design allowed him to efficiently format and integrate numerous external documents and images into the application, resulting in a comprehensive and polished final document exceeding 300 pages. In addition to formatting, Mike also focused on creating a consistent visual identity for the document, using relevant imagery, typography, and color schemes to ensure that the application stood out from the competition.
One of the key aspects of the project was the seamless integration of various legal and sensitive documents, including operational plans, zoning details, and other highly regulated materials. Mike's attention to detail and understanding of the cannabis industry's regulatory landscape ensured that all documents were accurately represented and met the requirements of both municipalities.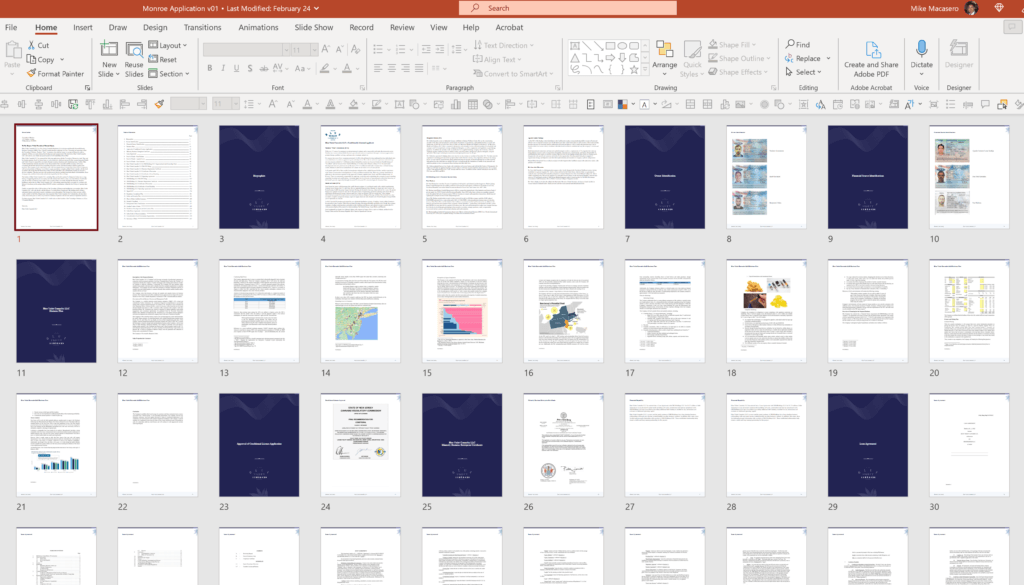 Outcome
The high-quality document designed by Slideckly played a crucial role in Blue Violet Cannabis securing the Class 5 Cannabis License approvals from both municipalities. The company's investment group was thrilled with the outcome, which enabled them to move forward with their business plans.
Not only did Slideckly's expert document design services impress the Blue Violet Cannabis team, but the final document also made a lasting impact on the committee members reviewing the applications. The professionalism and attention to detail demonstrated in the application cemented Blue Violet Cannabis as the prime candidate for approval, setting a high standard for future applicants.
Client Testimonial
"The presentation that Mike created was CRUCIAL in getting our approval. His work presented a professional level of finish that cemented us as the prime candidate for approval. I have and would recommend Mike's services to anyone looking for a professional presentation in any industry. The price is competitive, and speed and communication are second to none! We will be using Mike's services again."

Teodoro "Theo" Armenteros, Blue Violet Cannabis LLC
Continued Collaboration and Future Opportunities
Following the successful completion of the licensing application, Blue Violet Cannabis has expressed interest in continuing their partnership with Slideckly for future projects. They have been impressed not only by the quality and professionalism of the work delivered but also by the responsiveness, speed, and communication throughout the entire process.
Slideckly's ability to adapt to different industries and understand unique requirements has made them a valuable asset for Blue Violet Cannabis and other clients. As the cannabis industry continues to grow and evolve, Blue Violet Cannabis plans to rely on Slideckly's expertise for any upcoming design and documentation needs.
Wrap Up
This case study demonstrates the impact of expert PowerPoint document design services on achieving business goals and highlights Slideckly's capabilities as a trusted partner in a competitive market. By working with Slideckly, Blue Violet Cannabis was able to successfully navigate the licensing process and secure a strong foothold in the industry. The collaboration exemplifies how effective communication, innovative design solutions, and professional expertise can lead to success in even the most complex and challenging projects.
Blue Violet Cannabis's experience with Slideckly underscores the importance of investing in high-quality, professionally designed documentation to stand out in today's competitive business landscape. The partnership between Blue Violet Cannabis and Slideckly serves as a testament to the value of expert design services and their role in helping businesses secure the approvals and licenses necessary to grow and thrive in their respective industries.